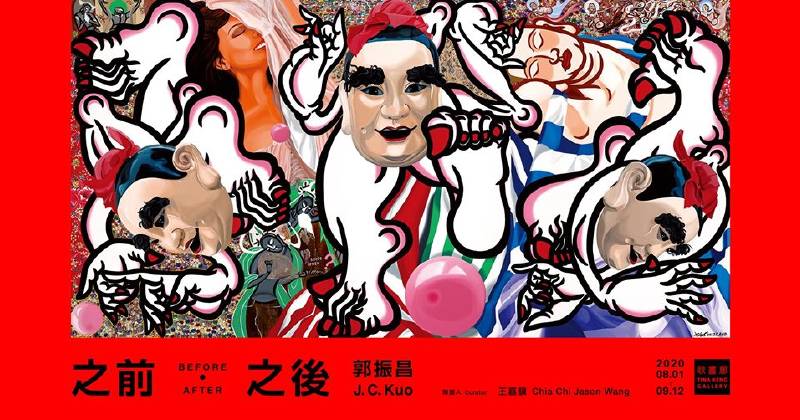 展期

日期:2020-08-01 ~ 2020-09-12

地點

114 台北市台北市內湖區瑞光路548巷15號1樓

參展藝術家

郭振昌
策展人|王嘉驥
展期|2020.08.01 – 2020.09.12
開幕|2020.08.01(六)下午4:30
地點|台北市11492內湖區瑞光路548巷15號1樓

「之前.之後:郭振昌2020個展」以郭振昌10年來的創作為選件範圍,兼顧作品的視覺力度、精神內涵,以及風格變化,展出逾55件作品,絕大多數都是首度發表之作。

郭振昌於1970年代中期至後期,曾有五年時間,深入臺灣民間,研究傳統手工藝,寫下許多關於民間藝術的田野調查報告。此一經驗反饋在他後來的創作當中,時而可見他將傳統技藝的製作手法及形式,譬如剪粘、牌匾、寺廟的壁畫和門窗,以及道教通俗信仰中的媽祖、千里眼、順風耳、三太子、八家將等形象,挪用並轉化為個人化的藝術形式。透過普遍性的儀式、禮俗和信仰,郭振昌喚起人們長期以來共通的生活認同及文化記憶。

從1979年的個展開始,他由稍早的抽象超現實主義畫風,轉向生活性和社會性的寫實風格。1980年代中期,他在畫面上並置傳統與現代人物的形象。同時,在技法和意象的運用上,他自覺地操作中國與西方的文化對照。進入1990年代,郭振昌並置中、西、古、今的獨特之風,更具體地結合臺灣當代社會特定的文化議題,而有進一步的演變。從當代生活入手,藝術成為他反映、揭露,以及解構臺灣作為一個複雜文化混合體的手段。

也從1990年代開始,郭振昌以立體拼貼為手段,為畫面植入現成的實物。實物作為指涉概念的符號,具備特定的意義能指。藉此手法,他為作品的閱讀增添了一層視覺弔詭。郭振昌還轉化許多通俗、不起眼,甚至非藝術性的意象與物質,予以系統化,形塑為獨特的視覺語言。應語境之需,時鐘、面具、花布、勳章、徽章、仿珠寶、光碟、記憶卡、報紙、書法印製品、流行貼圖、影子、氣球等,階段性地成為他作品的圖像,與歷史和文化記憶產生連結。

受李仲生(1912-1984)啟迪,郭振昌很早就對佛洛伊德心理學感到興趣,也深有了解。後來,他的關懷層面擴大到族群與社會心理;對榮格(Carl Gustav Jung, 1875-1961)的「集體潛意識」理論也有認識。郭振昌傾向從多元的文化視角,透視臺灣的族群組成與社會心理。他對於回溯過往歷史的興趣不大;復古不是他的品味也非訴求,而是利用解構的過程,盼能建立創新的可能。

他在描繪具有歷史與傳統意味的形象時,往往是以定型化或圖像化的手法描繪,而且偏向平面化的線描表現方式。與之相對比的,大多是反映當代生活與流行文化的各種鮮活符號、現實物件,以及寫實形體。近幾年來,他還嘗試以壓克力顏料和西畫技法,表現中國傳統山水畫。他以擬仿水墨風格的山水,搭配普普風格描繪的波浪景觀,創造傳統與當代並陳的新穎形式。

多了風景的視野,郭振昌的作品也增加了空間的縱深。跨躍時空的地景與人物,在他精心營造的畫面上共存,彷彿上演著一齣又一齣的穿越劇。郭振昌認為,「凡是能將現在生活的特質表現出來的,就是寫實。」很多時候,他的作品看似夢幻,卻非超現實,而是如實表達了臺灣多重文化混生的面貌。


--------

Before.After: J.C. Kuo 2020 Solo Exhibition

Curator | Chia Chi Jason Wang
Exhibition Dates | 08.01.2020 – 09.12.2020
Reception | 08.01.2020 (Sat.) 4:30 p.m.
Venue | 1F, No. 15, 548 Ln., Ruiguang Rd., Neihu Dist., Taipei, Taiwan 11492


Pivoting around the artist's body of work from the past decade, Before.After: J.C. Kuo 2020 Solo Exhibition comprises over 55 pieces that epitomize the visual prowess, underlying essence, and stylistic evolution of his work, most of which on view for the first time in public.

From the mid- to late-1970s, J.C. Kuo spent five years researching Taiwanese folk traditions, studying traditional crafts, and writing a lot of field investigation reports on folk arts. This experience has left a lasting influence on his practice, where Kuo integrates and transforms traditional techniques and aesthetics — such as jian-nian (cut-and-paste ceramic ornamentation), devotional plaques, and temple frescoes, windows, and doors — along with Taoist deities and icons — such as Mazu, Qianliyan, Shunfeng'er, Third Lotus Prince, Eight Generals — ultimately cultivating a deeply personal visual aesthetic. Through such universal rituals, customs, and beliefs, Kuo conjures an enduring common identity and cultural memory.

From as early as his 1979 solo exhibition, the artist evolved from his earlier abstract surrealist style towards a more realistic style reflective of contemporary life and society. In the mid-1980s, Kuo began juxtaposing traditional and modern human figures on his canvas. Through the use of techniques and imagery, he consciously emphasizes the cultural contrast between China and the West. Entering the 1990s, Kuo continued to juxtapose the unique visual cultures of China and the West, past and present, but also began to integrate specific cultural issues of contemporary society in Taiwan, distinguishing further stylistic evolution. As he began to confront matters of contemporary life, art became his means of reflecting, exposing, and deconstructing Taiwan as a complex polyphony of various different cultures.

Since the 1990s, Kuo has utilized sculptural collage as a means to incorporate ready-made objects into his works, using them as symbols to signify specific conceptual referents. With this method, he adds an additional layer of visual paradox to the reading of his work, which presents the viewer with specious misperceptions that are also contradictory. From time to time, Kuo transforms popular, obscure, and even non-artistic images and materials into a unique and systematic visual language. Depending on the context, clocks, masks, floral jacquard fabric, medals, badges, imitation jewelry, compact discs, SD memory cards, newspapers, calligraphic prints, popular stickers, shadows, and balloons became visual motifs in different periods of his practice, evoking history and cultural memory.

Inspired by his mentor Lee Chun-shan (1912–1984), Kuo not only became interested in Freudian psychology at an early stage, but also developed a deep understanding of its theories. Later, Kuo's interest expanded to ethnic and social psychology, as well as Carl Gustav Jung's (1875–1961) theory of the collective unconscious. Kuo tends to perceive the ethnic composition and social psychology of Taiwan from a compounded cultural perspective. In reality, he has little interest in revisiting history. The retro aesthetic is neither his taste nor his appeal; rather, the artist engages in strategies of deconstruction in hopes of establishing new possibilities for innovation.

When he depicts symbols and images with traditional and historical implications, Kuo typically transmutes them into caricatures or graphic portrayals, often with a bias towards flat line drawing. In contrast, he also incorporates a wide variety of symbols, real objects, and realistic forms that embody contemporary life and popular culture. In recent years, Kuo has also begun using acrylic paint and Western techniques to render traditional Chinese landscape painting. Juxtaposing traditional landscapes with Pop art–esque waves, the artist invents a novel synthesis of traditional and contemporary visual cultures.

With the increased prevalence of and emphasis on landscapes, Kuo's work encompasses a greater depth of space. The figures and landscapes leap through space and time to coexist in his carefully calculated compositions, as if orchestrating an endless succession of cross-over dramas. "Anything that can manifest the characteristics of contemporary life is considered realism," the artist contends. While J.C. Kuo's work often appears fantastical, it is not surreal; rather, it faithfully mirrors the complexities, contradictions, and cultural polyphony of contemporary Taiwanese society.

-----

關於郭振昌 About J.C. Kuo

郭振昌1949年出生於彰化鹿港,屬於戰後出生的第一代藝術家,也堪稱台灣當代藝術的第一代。他的藝術養成與訓練,雖具有高度的混合性,卻是出於個人的自覺與豐富而廣泛的閱讀和實驗。他持續以現實為切入點,無論對於社會的關懷,或是對於個人藝術語言的開拓,均始終保持高度的自覺──也因此,他的作品始終具有高度的當代性格。
郭振昌的形式語言也反映了台灣作為一個混雜文化的特質,從台灣、中國、日本和西方的元素之中,他搓揉出一套視覺鮮明,語言強烈,且藝術張力極為強大的個人系統。這種既台灣又國際的強度,也是他同代藝術家之中少見的。
作為個人主義的藝術家,郭振昌的藝術累積使我們看到了戰後在台灣本土出生與成長的第一代藝術家,如何走出屬於台灣當代藝術自我面貌的可能。

J.C. Kuo was born in 1949 in Lugang Township, Zhanghua Country, Taiwan. One might define him as a member of the first generation of artists born after World War II, and also one of Taiwan's first wave of contemporary artists. His artistic cultivation and training, while highly eclectic, ultimately arose from a personal self-awareness and broad reading and experimentation. He continues to take the world as it is in the present day as the springboard of his creative consideration, and whether it be his concern for society or his development of a personal artistic vocabulary, he always maintains a high degree of self-consciousness — it is for this reason that his works always possess a pronounced quality of contemporary relevance.
Kuo's formal language also reflects the hybrid nature of Taiwanese culture. From the friction existing among Taiwanese, Chinese, Japanese, and Western elements, he has generated an individual system that is visually vivid, powerful in expressive vocabulary, and highly charged with artistic tension. This quality that is both distinctly Taiwanese and decidedly international is seldom seen among artists of the same generation.
As an individualistic artist, J.C. Kuo has produced a cumulative body of works that affords us a glimpse into how the first generation of artists born and raised in Taiwan in the post–World War II era has explored the possibilities for a uniquely Taiwanese form of contemporary art.